If you're in the biblical studies world — whether as a student or a scholar — you likely know that the annual conferences are fast approaching. Next week the ETS/IBR/SBL trio of events will be held in San Diego, California. It should be a great time of collaboration and camaraderie (with the occasional snarky comment if we're all honest). If you are new, either to this blog or to the conferences, you might want to check out my posts from a few years back on conference-going strategy (Part 1 and Part 2).
I thought I'd draw attention to two new resources related to the Septuagint that will be available for purchase at the conferences. Both are very user-friendly and oriented towards students and learners. Be sure to look for these two publishers in the book room and check out these resources. (Actually, there is a third I'll mention as well . . . )
1. Illustrated Daniel in Greek (GlossaHouse)
You may not know much about GlossaHouse, but you should get acquainted. This publisher has been putting out very useful language tools for a number of years now under the leadership of T. Michael W. Halcomb and Fredrick J. Long.
Among the many volumes they've published is a wonderful series known as Illustrated Biblical Texts, which is exactly what it sounds like. A number of Hebrew, Greek, and Latin texts have appeared to date, whether from the Old Testament or New Testament. For the first time this month, however, a new volume has appeared from the Septuagint: Illustrated Daniel in Greek, which was put together by T. Michael W. Halcomb and Andrew T. Keenan.
You can get a better sense of what these volumes are by looking at the embedded image below, but essentially they are well-produced graphic novels, with the text situated within speech bubbles and narration bars as you would expect. In addition, there is an English translation provided at the bottom of each page. This makes the reading experience a lot more immersive and, frankly, interesting for many students. I wish they'd been available when I was learning the biblical languages (which is why I recommend them to my students now).
The ancient Greek translation of the book of Daniel is pretty complicated. There are now two main textual streams, the so-called Old Greek and the Theodotionic versions. You will see both texts printed if you open up Rahlfs-Hanhart. This Illustrated volume is a kind of textual amalgamation of the two versions, although it is mostly the Old Greek. Mike Halcomb was kind enough to clarify for me that this approach was due to illustration (and versification) limitations and a desire to facilitate sensible reading in the final product. The authors have also produced the English translation themselves.
Check out this sample page (courtesy of GlossaHouse):
Keep an eye out for this resource at the conferences, and for future illustrated volumes on the Psalms, Ruth, Esther, and Jonah!
2. The Lexham English Septuagint (Lexham Press)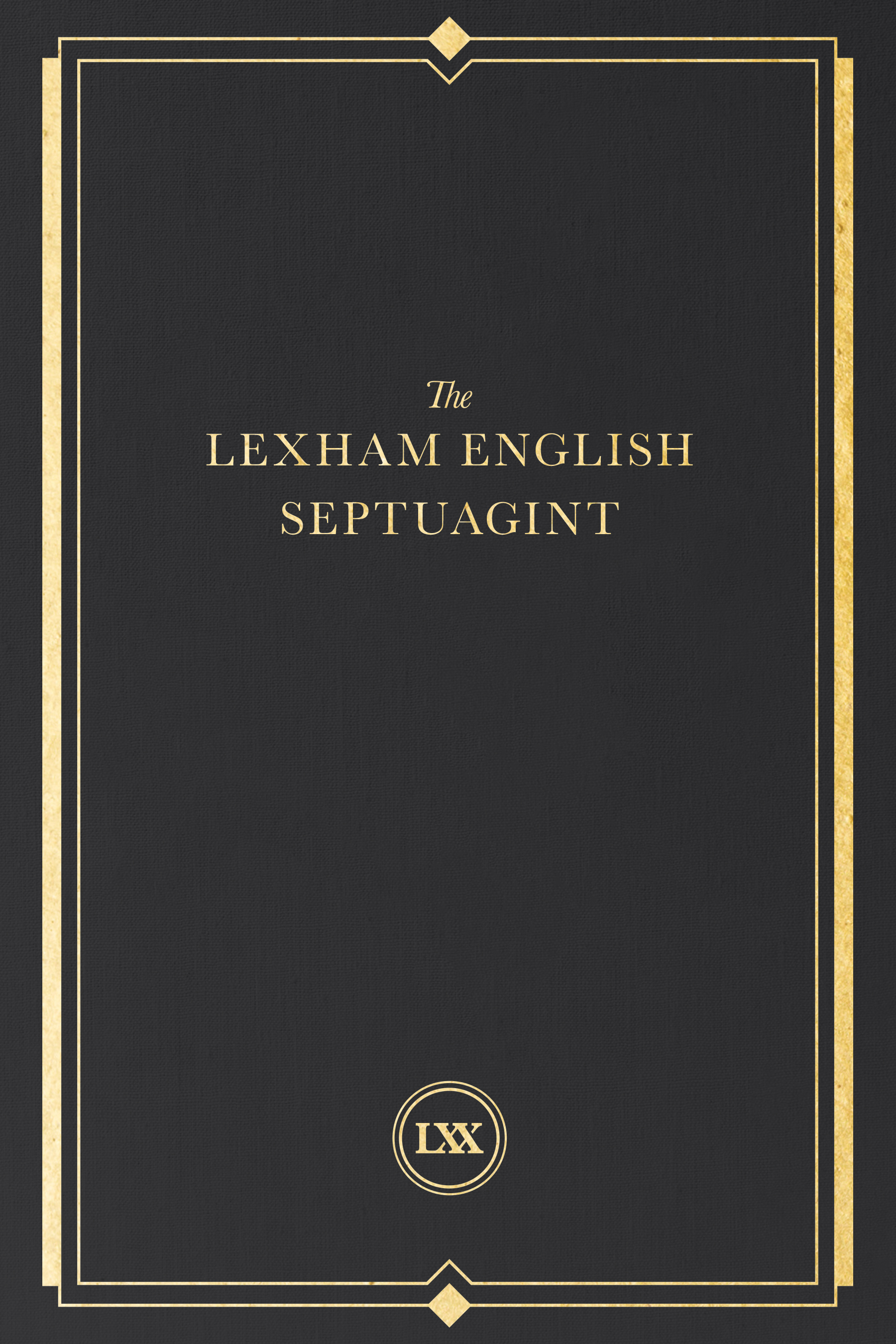 Speaking of English translations, a major (~1,300 page) new resource for the discipline is the Lexham English Septuagint (LES), published by the fine folks over at Lexham Press. Now there is a lot to say about this project actually, and I am not going to say it now. While I was provided a pre-publication (digial) copy of the work, I have not had the time to do an in-depth review. I am very much looking forward to doing so, particularly once I have my hands on the printed version next week in San Diego. In particular, I hope to draw some points of comparison and contrast with that other popular (and often misunderstood) English translation of the Septuagint: NETS. More to come on that topic soon.
For now, what is worth saying about LES is that — unlike NETS — it is a translation of the Septuagint that is made "directly from the Greek" (p. x). In this particular case, "the Greek" refers to Swete's manual edition (e.g., volume 1 here). Notably, and somewhat ironically, LES began its life as an interlinear edition produced by a team for Logos Bible Software, which was then "reassembled" using some kind of software black magic into "English word order" as closely as possible (p. xii). After some editing by actual humans, the resulting English translation was originally released digitally on the Logos platform only.
The new published version of LES, however, has been revamped and, it seems, reedited by Ken M. Penner, with the intention of providing a translation that answers the question "How would this text have been read–and understood and experienced–by a fourth century, Greek-speaking gentile Christian?" (p. xiii). I must admit I am eager to see whether and how this goal has been achieved (with some help from Penner, who will be responding to a few interview questions).
You will certainly want to get your hands on this volume and keep it close by if you are in the habit of using NETS in your research!
(Also: My Book)
I would be remiss if I didn't mention (again) the fact that I have another book with Greg Lanier coming out this month. The Book-by-Book Guide to Septuagint Vocabulary will be available at the Hendrickson booth, and you can read more about that project here.
Another worthy book to be aware of is the "companion" to our vocabulary volume, one that was compiled by my friend Chris Fresch and which is focused on the New Testament. Be sure to check it out as well!