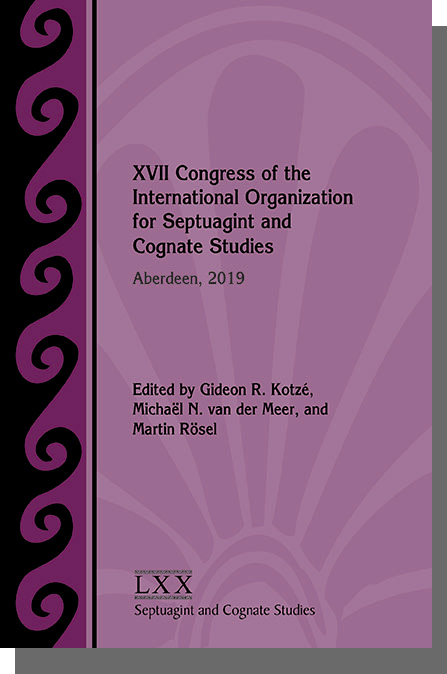 Every three years the International Organization for the Study of the Old Testament (IOSOT) holds a congress somewhere around the world. And during that congress, a number of other, smaller societies hold their own little get-togethers as a kind of mini-congress. One of the societies that does so is the International Organization for Septuagint and Cognate Studies (IOSCS).
Now, if I've said it once here, I've said it a thousand times: If you are even remotely interested in Septuagint scholarship, you should join the IOSCS immediately. It's cheap, we're friendly, and you'll get the Journal of Septuagint and Cognate Studies shipped to your door.
But I digress. In addition to meeting every three years at this congress, the IOSCS also collects the papers presented and publishes them as a volume in the SBL Septuagint and Cognate Studies series. So I was very pleased to see this (rather formidable) undertaking recently come to light.
Thanks to the heroic editorial labors of Gideon Kotzé, Michael van der Meer, and Martin Rösel, the proceedings of the 2019 IOSCS Congress held at the University of Aberdeen are now in print. I was kindly provided with a review copy by SBL Press — the price point is a little higher than usual — and I can tell you, this thing is a whopper.
Coming in at just under 800 pages (without indices etc.), there is a ton of scholarship to sift through in this volume. The table of contents has five sections, as follows:
Textual History (6 essays)
Historical Context (5 essays)
Syntax and Semantics (7 essays)
Exegesis and Theology (8 essays)
Commentary (8 essays)
As you can see, the sections are fairly well balanced. This volume is wide-ranging and will have something for everyone in the discipline. Students, researchers, and newcomers are well-advised to get a copy to have on their shelf. I think it's fair to say that, in general, the lifeblood of Septuagint studies is in essays and articles, more so than monographs. That may change some day, but until it does, these IOSCS congress volumes are indispensable for up-to-date research in the field.
Finally, my thanks to the editorial team for all their work. Any book in which the indexes stretch over thirty pages is a massive achievement!